Learn how to discover great new learning content and earn more awards through SellPro's Campaigns feature.
SellPro's Campaigns expose you to more new content, and provide you with more earning opportunities in the PlayZone and ProShop. All you need to do is complete a series of various tasks to unlock awards. It's that simple!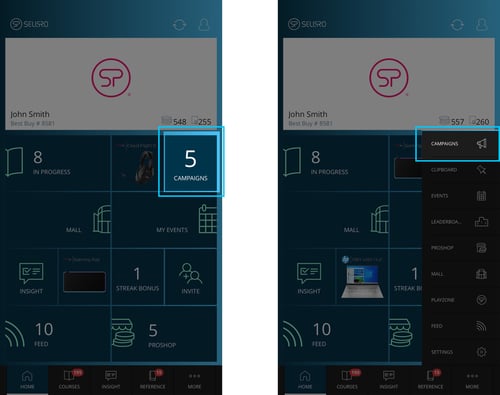 To access Campaigns, simply tap the Campaigns tile on the Home screen. You can also get there from the bottom menu or side bar.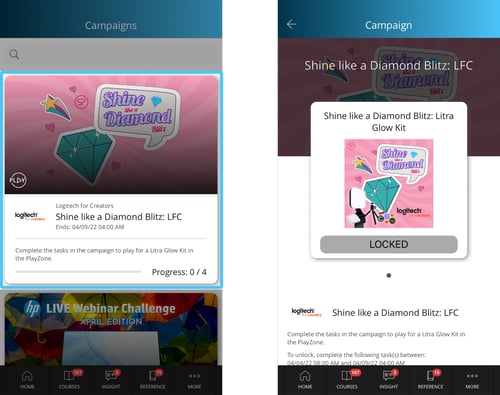 Each Campaign in the list shows the name, hosting brand, ending date/time, a brief description, and a progress bar. The icon in the bottom left corner of the image indicates whether the Campaign has a PlayZone award, a ProShop award, or both. Tap any Campaign in the list to see the associated award(s), and the list of tasks that must be completed before the Campaign's end date/time to unlock the award(s).
Some campaigns focus on content in SellPro. These types of campaigns have a list of Tasks to complete in order to earn the award. Tasks in these campaigns can include any of the following:
Certify on one or more Courses
Attend one or more Events
Complete one or more Insight surveys
Open one or more Reference Files
Invite others to Join SellPro by using the Invite feature



Other types of campaigns are focused on spreading the word about SellPro. These types of campaigns have a different set of Tasks designed to encourage SellPro users to invite their co-workers to join SellPro, and they offer awards for both the Inviter and the Invitee (so don't forget to let them know they can earn a cool award just for joining!).
Tap to invite new users to join SellPro (Task #1): Complete this Task by sharing your unique Invite link with others so they can join SellPro too. You get one credit toward the Task count for each person you invite, if they follow the link to create a SellPro account.
Invitees have verified their profiles (Task #2): When new users you invite verify their SellPro profile by creating an account and successfully claiming their award for joining, you earn one credit toward this Task count. If this task gets completed before Task #1 does, then you automatically unlock the awards for both tasks.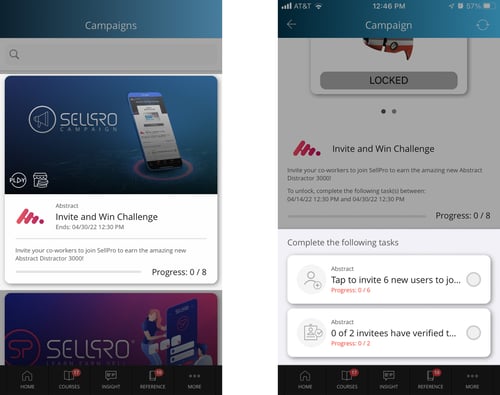 NOTE: When there is more than one invite-focused campaign available at the same time, the number of users who join SellPro from your Invite QR code / shareable link will only count towards one of the campaigns you participate in. So make sure you invite them through the campaign you want most to participate in, and share the correct link from that campaign.

After completing all the tasks required in a Campaign, the award(s) become unlocked. If the award is in the PlayZone, tap the PLAY button to go directly to the Gravity Game. If the award is in the ProShop, you can claim it directly from the Campaign screen.
---

Thank you for being a part of SellPro community. If you have any questions, please check out the other Knowledge Base articles or contact us at support@sellpro.net. We hope you're having fun learning and earning!