To create a custom SellPro app theme tailored to your brand, we'll need any documentation and digital asset files used to define your brand. This includes logo files, branding guidelines, color palettes, and fonts.
Digital File Assets
Brand Logo File(s)

High-resolution files that are appropriate for print and/or hi-resolution digital display.
Use vector format when possible. Preferred file formats are Encapsulated PostScript (EPS), or Adobe Illustrator (AI). Photoshop (PSD) and Portable Network Graphic (PNG) are also acceptable if other formats are not available, provided minimum dimensions meet or exceed 1200px.

Please include both vertical and horizontal lockups, if applicable.
Please include separate files for all approved color variations, such as single-color black and white. If these do not exist as separate files, please provide the color information for these variations in your brand style guide (see below).

Branding Style Guide


PDF or URL to your brand's current style guide and logo usage requirements.

This document should contain instructions on how to implement your brand's colors, logo(s), and any custom fonts, use of lifestyle imagery, co-branding requirements, or any other information pertaining to brand usage standards that must be adhered to.

Brand Fonts


When possible, please provide the TTF/OTF files of your brand's official fonts. We can add your fonts to OMS's Content Builder, so you can use them in your course content to further customize the experience for SellPro users.

Category Images

One lifestyle image or graphic illustration for each SellPro category you will release course content under. Each image should relate to the category it is associated with, as it will display when users access your courses (see example below).
Images must not contain any text and should be designed to accommodate readability when text is overlaid. The Course name and description will be displayed over this image in the Course view.
Required image dimensions are 1200 x 600, and image must be in PNG format.
How Your Branding Will Appear in the SellPro App
The example images below demonstrate how your assets will be displayed within the SellPro app.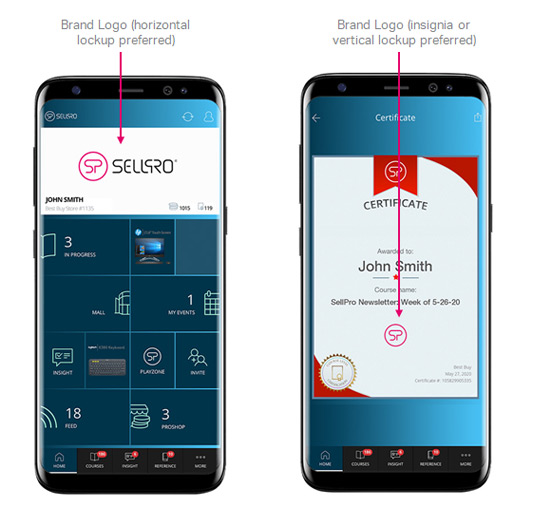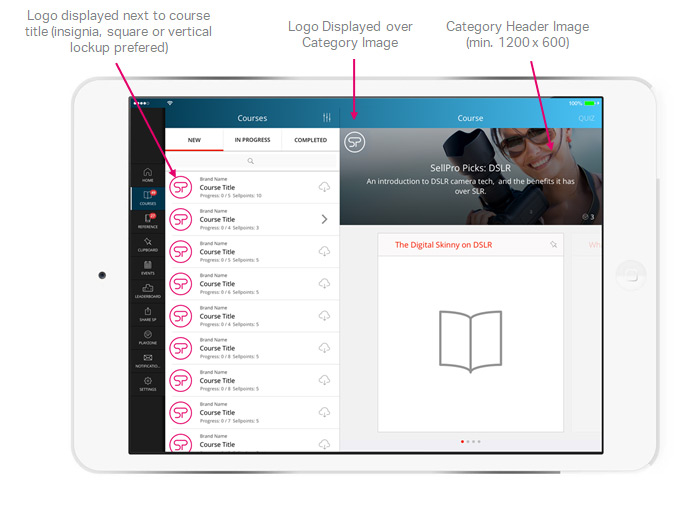 ---